March 11, 2013
Clariant Oil Services Provides Best in Class Vessel Deoiling and Cleaning System
Benefits
Removal of 95% to 100% of oil and production residues, minimizing further manual intervention
Volume required was less than one-third of incumbent treatment, providing savings on logistical and operational costs
Prevents formation of emulsions, allowing rapid clean-up and trouble- free operations
Recovered and recycled wash tailings, providing a zero waste solution at work site
Background
An independent operator commissioned Clariant Oil Services to work with its drilling and well test contractor in the UK sector of the North Sea to provide a best-in-class cleaning system for its mud pits and mud handling system. After a very successful cleaning application in the mud handling system, Clariant Oil Services' SURFTREAT 12005 was also used to clean the well test package that was used to process a heavy and viscous oil.
This unique oilfield produces a crude oil that is <16°API with a viscosity of >500 cP at standard conditions. This resulted in very challenging clean-up conditions in the standard mud holding tank that was heavily contaminated with heavy oil-soaked cuttings and drilling mud.
In order to test the efficacy of cleaning products, 50g of the heavy oil-contaminated sludge was bottle tested using a mechanical shaker. Then 50g of various cleaning solutions containing 5% of the active material (with the exception of the solvent-based treatments – 2-butoxyethanol) was added to each bottle, including the incumbent product used by the rig for lighter crude oil. The bottles were shaken for five minutes with the cleaning solutions. The cleaning solutions were removed from the bottles by decanting (see Figures 1 and 2 below). All testing took place at ambient temperature.
SURFTREAT 12005 can be seen to give the best results in terms of wettability modification, mobilization of the residual oil and excellent flocculation of the solids, allowing mobilization and separation from the heavy oil.
Figure 1: Before treating with the cleaner. All bottles contained the same volume of oily sludge residuals.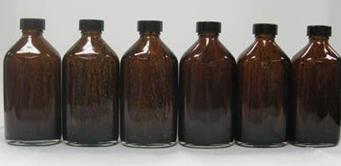 Figure 2: Post-cleaning test results. Left to right: standard incumbent product, SURFTREAT 12005, APG formulation, blank (water), 2-butoxyethanol (neat), TROS ESP 2000 (neat).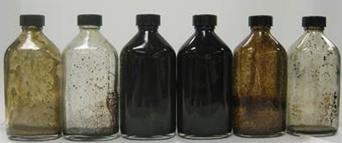 Clariant Oil Services Solutions and Value Delivered
The operator used a 10% dilution of SURFTREAT 12005 in seawater for cleaning operations. Using a once-through flush of the mud pits, mud handling system and well test processing system, SURFTREAT 12005 was able to remove all hydrocarbon and drilling mud residues from the contaminated surfaces.
The product was made up in the mud pits and then flowed through the system. Upon returning to the mud pits, the spent fluid was put through the well test package, which was able to separate out oil from water with relative ease. A second wash was performed again using the mud pits to blend the cleaning solution. After circulation through the mud handling system, the fluid was returned to the pits uncontaminated and clean, showing that the first pass had completely cleaned the system. Figure 3 shows the before and after cleaning operation of the mud pits.
This unspent, second pill was then opportunely and successfully used to clean the well test package at the end of the testing campaign.
Figure 3: Before (left) and after (right) pictures of the mud pit cleaning operation using SURFTREAT 12005.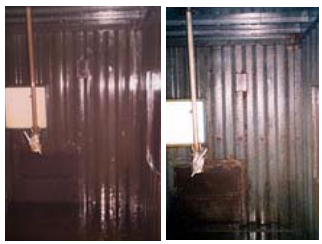 This information corresponds to the present state of our knowledge and is intended as a general description of our products and their possible applications. Clariant makes no warranties, express or implied, as to the information's accuracy, adequacy, sufficiency or freedom from defect and assumes no liability in connection with any use of this information. Any user of this product is responsible for determining the suitability of Clariant's products for its particular application.*Nothing included in this information waives any of Clariant's General Terms and Conditions of Sale, which control unless it agrees otherwise in writing. Any existing intellectual/industrial property rights must be observed. Due to possible changes in our products and applicable national and international regulations and laws, the status of our products could change. Material Safety Data Sheets providing safety precautions, that should be observed when handling or storing Clariant products, are available upon request and are provided in compliance with applicable law. You should obtain and review the applicable Material Safety Data Sheet information before handling any of these products. For additional information, please contact Clariant.
*For sales to customers located within the United States and Canada the following applies in addition: NO EXPRESS OR IMPLIED WARRANTY IS MADE OF THE MERCHANTABILITY, SUITABILITY, FITNESS FOR A PARTICULAR PURPOSE OR OTHERWISE OF ANY PRODUCT OR SERVICE.
Copyright © Clariant International Ltd, 2013.