May 14, 2013
Clariant Oil Services Successfully Increases Water Injection with Chemical Drag Reducer
Benefits
Significantly improved water injection rate by 20% to 40%, yielding improved oil recovery
Maintained a less turbulent flow throughout production transport lines, thus, reducing drag
Background
A major operator in the Norwegian sector of the North Sea desired to constantly increase the rate of water injection in order to maximize oil production. The water injection rate for the target well was 192 m³/hour (29,000 bbl/day), the THP was 4,200 psi and the BHP 7,700 psi. Field trials were conducted to monitor the effect that Clariant Oil Services' FLOTREAT DR 1506 drag reduction chemical had on the water injection rate in the well by observing seawater injection volumes.
FLOTREAT DR 1506 was injected into the wellhead downstream of the choke using a high-pressure injection pump. Injection rates varied between 20 ppm and 40 ppm, based on the water rate through the system.
Clariant Oil Services Solutions and Value Delivered
Clariant Oil Services'FLOTREAT DR 1506 drag reducer is a polymeric emulsion system that hydrolyzes quickly when in contact with water, thereby activating the polymer via it uncoiling to form a microscopic thread. When FLOTREAT DR 1506 is injected into a water system with a turbulent flow regime, these thread-like polymer structures have the effect of "calming" the water and can reduce the frequency and magnitude of turbulent eddy currents in a flowing fluid. Maintaining less turbulence through production transport lines has proven to increase the water injection rate.
Results proved that the injection of FLOTREAT DR 1506 improved the water injection rate by 20% to 40%. Test results illustrated below show that an injection rate of 40 ppm of FLOTREAT DR 1506 gave an increased effect of above 40%. Additionally, the field trial was performed without causing any process upsets.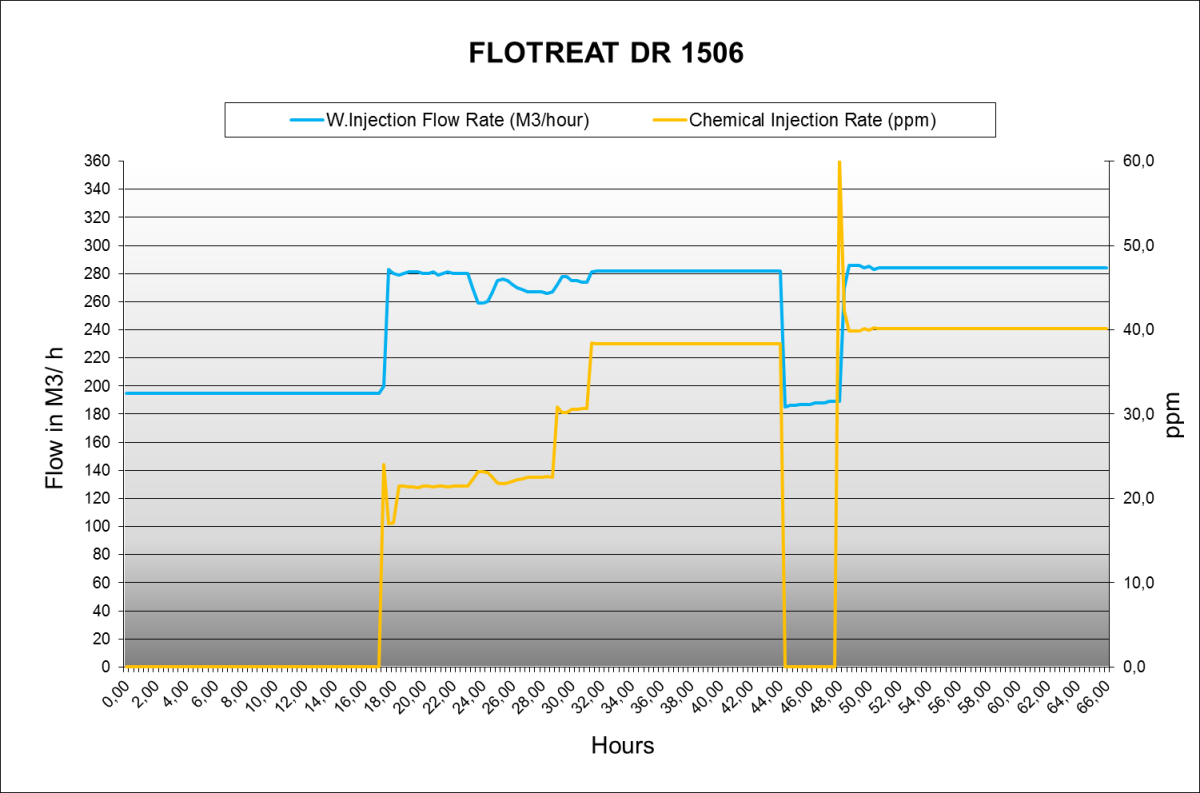 This information corresponds to the present state of our knowledge and is intended as a general description of our products and their possible applications. Clariant makes no warranties, express or implied, as to the information's accuracy, adequacy, sufficiency or freedom from defect and assumes no liability in connection with any use of this information. Any user of this product is responsible for determining the suitability of Clariant's products for its particular application.*Nothing included in this information waives any of Clariant's General Terms and Conditions of Sale, which control unless it agrees otherwise in writing. Any existing intellectual/industrial property rights must be observed. Due to possible changes in our products and applicable national and international regulations and laws, the status of our products could change. Material Safety Data Sheets providing safety precautions, that should be observed when handling or storing Clariant products, are available upon request and are provided in compliance with applicable law. You should obtain and review the applicable Material Safety Data Sheet information before handling any of these products. For additional information, please contact Clariant.
*For sales to customers located within the United States and Canada the following applies in addition: NO EXPRESS OR IMPLIED WARRANTY IS MADE OF THE MERCHANTABILITY, SUITABILITY, FITNESS FOR A PARTICULAR PURPOSE OR OTHERWISE OF ANY PRODUCT OR SERVICE.
Copyright © Clariant International Ltd, 2013.