August 05, 2013
Clariant Oil Services Doubles Production to 355 Mscfd via Backside Foamer Batch Treatment
Benefits
Enhanced flow maintained for 7 days before slowly decreasing to pre-treatment levels
Production in this low pressure gas well doubled with batch treatments of WellBoost 108 every two weeks
WellBoost 108 has a freezing point below -40°C (-40°F)
Careful design and optimization of well enhancement program by Clariant Oil Services, in close collaboration with lease operators
Background
Excess water production in a gas well can cause a hydrostatic overbalance in the system, resulting in a loss of production. Gas well production can be enhanced when chemical deliquification is applied. Liquid foamer can be introduced to the fluid column to form managed foam, enabling water and even condensate removal.
This particular well in Northern Alberta operated at a very low pressure of approximately 200 kPa (29 psi) and produced 5 e3m3/day (177.5 Mscfd). At these low pressures and production rates the well was very sensitive to water production – it took only a small amount of fluid to dramatically affect production.
Laboratory work performed by Clariant Oil Services was initially conducted to identify a suitable liquid chemical foaming agent for field application. Yet this test work identified not only the chemistry, but also derived a half-life versus chemical concentration curve to enable effective field optimization. This is the typical attention-to-detail that exemplifies the added service Clariant Oil Services delivers to its customers.
Clariant Oil Services Solutions and Value Delivered
Upon application of a 20-liter batch of WellBoost™ 108 down the well annulus, gas production increased from just under 5 e3m3/day (177.5 Mscfd) to over 10 e3m3/day (354.9 Mscfd). The production increase remained for one week before slowly declining (see graph below). Two weeks after treatment, the benefit declined fully and re-treatment was required.
The chemical cost was insignificant compared to the additional 50 e3m3 of gas produced over the course of a single treatment. Likewise, due to the well's response to the batch treatment, it has been proposed to put it on continuous treatment to gain the incremental production benefit all the time and lessen the operational strain of batch treatment.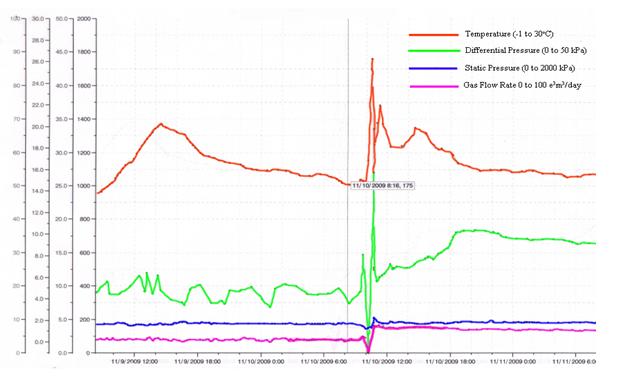 This information corresponds to the present state of our knowledge and is intended as a general description of our products and their possible applications. Clariant makes no warranties, express or implied, as to the information's accuracy, adequacy, sufficiency or freedom from defect and assumes no liability in connection with any use of this information. Any user of this product is responsible for determining the suitability of Clariant's products for its particular application.*Nothing included in this information waives any of Clariant's General Terms and Conditions of Sale, which control unless it agrees otherwise in writing. Any existing intellectual/industrial property rights must be observed. Due to possible changes in our products and applicable national and international regulations and laws, the status of our products could change. Material Safety Data Sheets providing safety precautions, that should be observed when handling or storing Clariant products, are available upon request and are provided in compliance with applicable law. You should obtain and review the applicable Material Safety Data Sheet information before handling any of these products. For additional information, please contact Clariant.
*For sales to customers located within the United States and Canada the following applies in addition: NO EXPRESS OR IMPLIED WARRANTY IS MADE OF THE MERCHANTABILITY, SUITABILITY, FITNESS FOR A PARTICULAR PURPOSE OR OTHERWISE OF ANY PRODUCT OR SERVICE.
™ Trademark application filed in many countries by Clariant
* Previously sold as SURFTREAT® 8553