Clariant Oil Services Optimizes Production from 0 to 248 Mscfd in Challenging Alberta Well
Benefits
WellBoost 115 is a liquid-based combination foamer and wax / asphaltene solvent
Enhanced gas production from 0 e3m3/d (0 Mscfd) to 7 e3m3/d (248.5 Mscfd) with injection of a 20- to 40-liter batch of WellBoost 115
Custom-designed, implemented and optimized well enhancement service program by Clariant Oil Services, in collaboration with the operator
Background
Gas wells can be dramatically affected by the production of water and condensate, which can hydrostatically overbalance the system and cause a loss or even cessation in production. Liquid foamers can be introduced to the fluid column to form foam that can be controlled, which would lighten up the hydrostatic head, enabling regular gas production to lift the fluid from the well. A well in northern Alberta was particularly sensitive to water production, as the typical operating pressure was just 300 to 400 kPa (43.5 to 58 psi) with a well depth of 400 meters (1312 feet). It took only a small amount of fluid to kill production.
Additional challenges were heavy end deposition at bottomhole and historic well tubing failure. This meant production was occurring through the casing as the tubing was plugged. Therefore, continuous injection could not be considered for this well.
Clariant Oil Services Solutions and Value Delivered
Laboratory testing identified a suitable treatment chemical that addressed the liquid unloading, as well as the heavy ends deposition issue. Clariant Oil Services engineers then worked with the operator to design an application protocol. Prior to the strategy, the well flowed naturally; once gas flow declined to 4.5 e3m3/d (159.7 Mscfd), the well subsequently died (see graph below).
The first batch treatment of WellBoost™ 115 was applied in November, and pumped down the casing where it sat for a short period of time. Upon back production, the gas rate is enhanced from 0 to 7 e3m3/d (248.5 Mscfd). Production is monitored and just before the flow reduces to 4.5 e3m3/d (159.7 Mscfd), the well is proactively shut-in and a 20- to 40-liter batch of WellBoost 115 is injected down the casing. This is required every two to three months.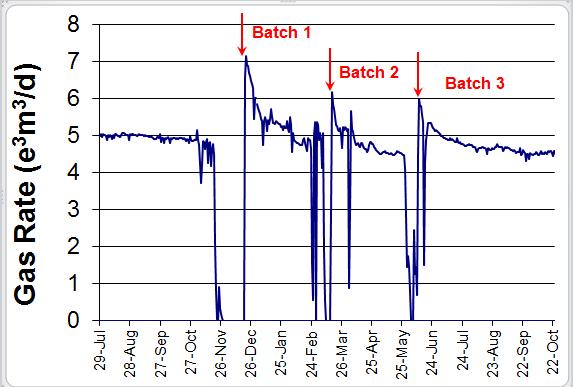 This well is likely to be worked over, replacing the tubing, so that a continuous injection of WellBoost 115 can occur down the casing. A gas flow of 6 e3m3/d (212.9 Mscfd) is anticipated with continuous foamer injection.
This information corresponds to the present state of our knowledge and is intended as a general description of our products and their possible applications. Clariant makes no warranties, express or implied, as to the information's accuracy, adequacy, sufficiency or freedom from defect and assumes no liability in connection with any use of this information. Any user of this product is responsible for determining the suitability of Clariant's products for its particular application.*Nothing included in this information waives any of Clariant's General Terms and Conditions of Sale, which control unless it agrees otherwise in writing. Any existing intellectual/industrial property rights must be observed. Due to possible changes in our products and applicable national and international regulations and laws, the status of our products could change. Material Safety Data Sheets providing safety precautions, that should be observed when handling or storing Clariant products, are available upon request and are provided in compliance with applicable law. You should obtain and review the applicable Material Safety Data Sheet information before handling any of these products. For additional information, please contact Clariant.
*For sales to customers located within the United States and Canada the following applies in addition: NO EXPRESS OR IMPLIED WARRANTY IS MADE OF THE MERCHANTABILITY, SUITABILITY, FITNESS FOR A PARTICULAR PURPOSE OR OTHERWISE OF ANY PRODUCT OR SERVICE.
™ Trademark application filed in many countries by Clariant
* Previously sold as SOLVTREAT® EFI-204