August 04, 2013
Clariant Oil Services Restores Gas Well Production to 2.5 mmscfd via Batch Treatment
Benefits
Dead well restored to production at 2.5 mmscfd
Well produced for an incremental 17 days before adopting the routine pressure build-up cycle
Stable process plant throughout treatment
Simple, fast and cost-effective treatment using combined technologies
Background
A major international oil company operates a gas / condensate field in the Southern North Sea. Well J02 is operated on a cycling regime with a bottomhole pressure of 349 psi. The well watered out and could not be restarted despite several attempts after pressure build-up periods. This field had not used chemical deliquification previously, and the well remained shut-in for a period of two months.
Clariant Oil Services Solutions and Value Delivered
Clariant Oil Services conducted extensive laboratory work to evaluate and formulate chemical foaming and de-foaming agents for this application. The combination of WellBoost 113 (foamer) with FOAMTREAT 9457 (de-foamer) delivered the best performance for this batch treatment.
In addition, both products are environmentally acceptable and are classified as Gold with no-substitution warnings. Compatibility with the field well flushing fluid SURFTREAT® 1818, also from Clariant Oil Services, was considered as well.
A successful topside squirt test was performed to evaluate adverse effects on process separation. Following this, the batch downhole treatment program was designed in close collaboration with the operator.
The well started up after treatment and delivered approximately 2.5 mmscfd of additional gas. The well continued to produce for 17 days providing an additional 40 mmscf of gas over the course of the treatment, which otherwise would not have been realized.
Due to the success of Clariant Oil Services' treatment program – the first application of its kind in this field – the operator extended the chemical deliquification campaign to all liquid-loaded wells in the field, and intends to trial in other fields in the Southern North Sea region.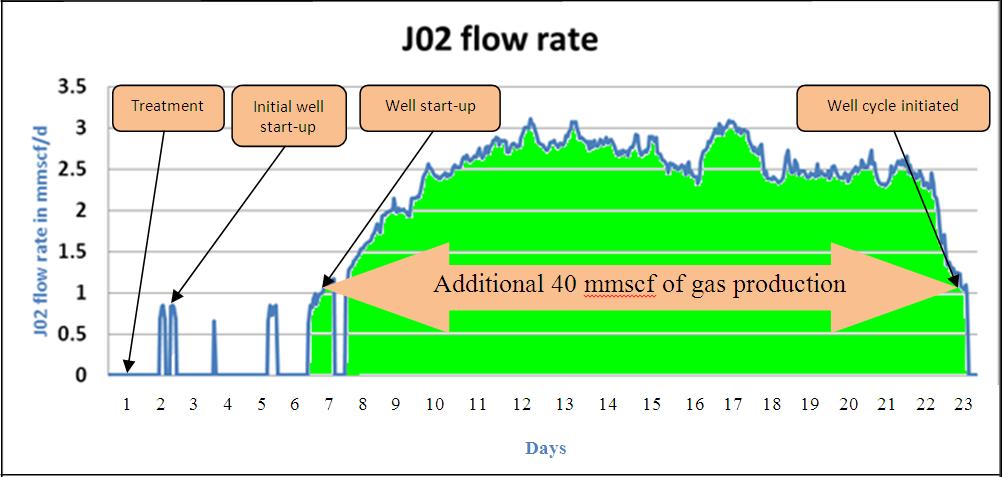 This information corresponds to the present state of our knowledge and is intended as a general description of our products and their possible applications. Clariant makes no warranties, express or implied, as to the information's accuracy, adequacy, sufficiency or freedom from defect and assumes no liability in connection with any use of this information. Any user of this product is responsible for determining the suitability of Clariant's products for its particular application.*Nothing included in this information waives any of Clariant's General Terms and Conditions of Sale, which control unless it agrees otherwise in writing. Any existing intellectual/industrial property rights must be observed. Due to possible changes in our products and applicable national and international regulations and laws, the status of our products could change. Material Safety Data Sheets providing safety precautions, that should be observed when handling or storing Clariant products, are available upon request and are provided in compliance with applicable law. You should obtain and review the applicable Material Safety Data Sheet information before handling any of these products. For additional information, please contact Clariant.
*For sales to customers located within the United States and Canada the following applies in addition: NO EXPRESS OR IMPLIED WARRANTY IS MADE OF THE MERCHANTABILITY, SUITABILITY, FITNESS FOR A PARTICULAR PURPOSE OR OTHERWISE OF ANY PRODUCT OR SERVICE.
™ Trademark application filed in many countries by Clariant
* Previously sold as SURFTREAT® FM 9440