Well Enhancement Strategy Inhibits Scale, Increases Production by 354.9 Mscfd
Benefits
Increased production by 354.9 Mscfd, resulting from a complex solution that was identified, designed and applied by Clariant Oil Services
Enhanced production and management of a multitude of flow assurance challenges through product innovation
Customized chemical delivery strategy with a value-added, service-driven approach
Background
A low pressure, low rate gas well in Northern Alberta was sensitive to water production, and accumulation of produced water in the tubing would kill production.
Clariant Oil Services was successfully treating this well with a batch treatment program of WellBoost 131**, a high concentration, liquid chemical foamer and solvent combination. WellBoost 131 would bring the well back from a no-flow situation, and subsequent backside flushes and blowdowns kept the well producing, but eventually it would die off and the cycle would need to be repeated. Clariant Oil Services decided to take a fresh look at this well and re-evaluate the program being applied.
Clariant Oil Services Solutions and Value Delivered
After Clariant Oil Services' investigation identified scale as a root cause of flow assurance failure, the well was batch treated with one drum of SCALETREAT SD 12900*** (a synergistic blend of inhibited acid and solvents) with a 6-hour soak. It was then brought back online with a continuous injection of 5 liters per day of WellBoost™ 302, a combined deliquification foam generation and scale inhibitor product. Production subsequently increased from the intermittent rates of 2 to 3 e3m3 (70.98 to 106.48 Mscfd) to initially 13.9 e3m3 (461.4 Mscfd) and a now stable 10.1 e3m3 (358.5 Mscfd) for at least four months. Clariant Oil Services' commitment to continual improvement significantly benefited this operator with optimized chemical delivery yielding increased production.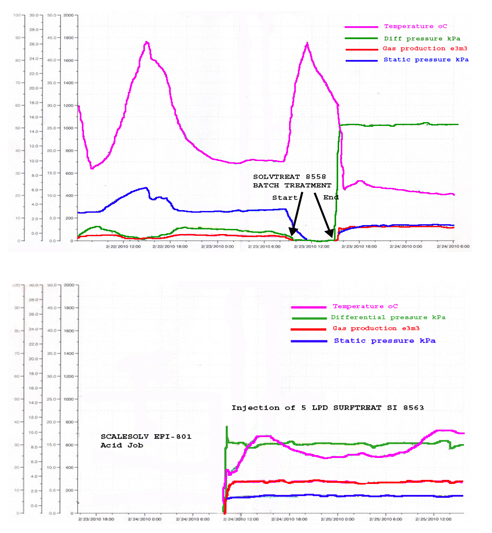 This information corresponds to the present state of our knowledge and is intended as a general description of our products and their possible applications. Clariant makes no warranties, express or implied, as to the information's accuracy, adequacy, sufficiency or freedom from defect and assumes no liability in connection with any use of this information. Any user of this product is responsible for determining the suitability of Clariant's products for its particular application.*Nothing included in this information waives any of Clariant's General Terms and Conditions of Sale, which control unless it agrees otherwise in writing. Any existing intellectual/industrial property rights must be observed. Due to possible changes in our products and applicable national and international regulations and laws, the status of our products could change. Material Safety Data Sheets providing safety precautions, that should be observed when handling or storing Clariant products, are available upon request and are provided in compliance with applicable law. You should obtain and review the applicable Material Safety Data Sheet information before handling any of these products. For additional information, please contact Clariant.
*For sales to customers located within the United States and Canada the following applies in addition: NO EXPRESS OR IMPLIED WARRANTY IS MADE OF THE MERCHANTABILITY, SUITABILITY, FITNESS FOR A PARTICULAR PURPOSE OR OTHERWISE OF ANY PRODUCT OR SERVICE.
™ Trademark application filed in many countries by Clariant
* Previously sold as SURFTREAT® SI 8653
** Previously sold as SOLVTREAT® 8558
*** Previously sold as SCALESOLV EFI-801