Clariant Oil Services Saves Gulf of Mexico Producer Nearly $470,000 in a Year
Benefits
Controlled injection rates of HYTREAT® DF 12851A, providing a cost savings of $414,720 (13,724%)
Lowered injection rate of FOAMTREAT 12873 from 50 gallons/day to 30 gallons/day, reducing costs by $55,035 per year
Background
Clariant Oil Services recognized that a Gulf of Mexico producer was not realizing the full potential of his chemical program, and therefore offered to provide a new continuous improvement plan to optimize chemical performance. The primary concern was the consumption rate of the low dose hydrate inhibitor (LDHI) HYTREAT DF 12851A as part of the chemical management system. The initial injection rate for HYTREAT DF 12851A was 0.4 GPM; however, the LDHI injection system could not adequately inject at the lower injection rates needed for hydrates.
The secondary concern regarded available injection points for Clariant Oil Services' defoamer, FOAMTREAT 12873. FOAMTREAT 12873 was injected on the well after the choke at a rate of 50 gallons/day. Yet this higher injection rate increased costs for the operator.
Clariant Oil Services Solutions and Value Delivered
After visiting the platform and evaluating the pump metering system, Clariant Oil Services' personnel decided that use of the existing equipment to inject the LDHI, HYTREAT DF 12851A, through the asphaltene injection pump and mandrel would allow better control of the injection rates. This required an investment by the customer of $3,000 for equipment (50 feet of tubing and two ball valves) and manpower (two SECO tubing hands for half a day). This solution for the primary concern resulted in lowered LDHI injection rates from 0.4 GPM to just 0.1 GPM, reducing costs by $414,720 in the 32 days of implementation. Thus the producer realized an ROI of 13,724%, equivalent to a one day payback.
To address the secondary concern, valving was added during a shut-in to allow the foaming well to receive defoamer prior to the choke in order to provide better mixing and longer contact time with the production stream. The defoamer valving required the same capital investment as for the LDHI pump metering system.
By the well receiving the defoamer prior to the choke, Clariant Oil Services was able to lower the injection rate of the defoamer FOAMTREAT 12873 from 50 gallons/day to 30 gallons/day. This reduced costs by $55,035 per year, with an ROI of 1,835% in the first month.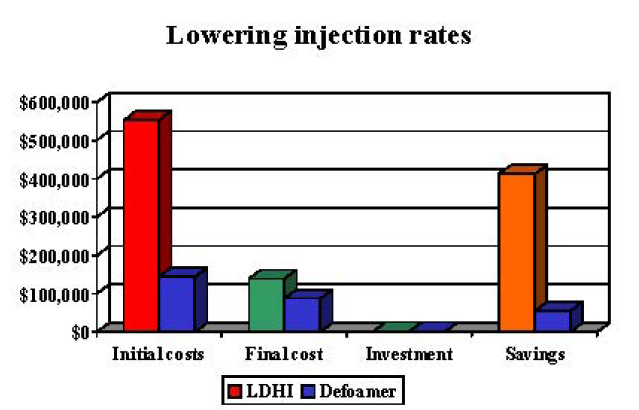 This information corresponds to the present state of our knowledge and is intended as a general description of our products and their possible applications. Clariant makes no warranties, express or implied, as to the information's accuracy, adequacy, sufficiency or freedom from defect and assumes no liability in connection with any use of this information. Any user of this product is responsible for determining the suitability of Clariant's products for its particular application.*Nothing included in this information waives any of Clariant's General Terms and Conditions of Sale, which control unless it agrees otherwise in writing. Any existing intellectual/industrial property rights must be observed. Due to possible changes in our products and applicable national and international regulations and laws, the status of our products could change. Material Safety Data Sheets providing safety precautions, that should be observed when handling or storing Clariant products, are available upon request and are provided in compliance with applicable law. You should obtain and review the applicable Material Safety Data Sheet information before handling any of these products. For additional information, please contact Clariant.
*For sales to customers located within the United States and Canada the following applies in addition: NO EXPRESS OR IMPLIED WARRANTY IS MADE OF THE MERCHANTABILITY, SUITABILITY, FITNESS FOR A PARTICULAR PURPOSE OR OTHERWISE OF ANY PRODUCT OR SERVICE.
Copyright © Clariant International Ltd, 2013.