HYTREAT DF 12851A Improves Water Quality Over Incumbent by 70%
Benefits
Effectively inhibited hydrates without creating water quality issues
Improved water quality over incumbent by 70%
Background
An operator in the Gulf of Mexico was experiencing severe water quality issues created by flow-backs from hydrate-inhibited, shut-in, dry-tree wells with the use of the incumbent hydrate inhibitor. Normal recovery from these flow-backs took several hours and caused increased water clarifier usage, yet still resulted in poor water quality.
In order to meet overboard water quality requirements, the operator had increased chemical and labor costs from constant monitoring and chemical rate changes.
Water quality from the test separator worsened exponentially via I.R. data during the flow-back period. Fluids were routed to the well clean-up tank because of the reverse emulsion created by the incumbent hydrate inhibitor. Fluids were pumped down slowly from the well clean-up tank; however, poor water quality and reverse emulsion problems still occurred.
Clariant Oil Services Solutions and Value Delivered
Clariant Oil Services' HYTREAT DF 12851A, an anti-agglomerant hydrate inhibitor that effectively inhibits hydrates without creating water quality issues, was recommended as a solution.
HYTREAT DF 12851A was trialed in a comparison test against the incumbent. As per normal operation, the flow-back well was routed to the well clean-up initially. Then the well was put into the system with no adverse effects to water quality or oil BSW. The well clean-up tank was then circulated to the low pressure separator and through the produced water system.
Water quality and oil quality results were recorded and compared. HYTREAT DF 12851A showed improved water quality of 70% overall compared to the incumbent. Additionally, total oil and grease numbers were at 18 ppm and remained in the 18 ppm to 22 ppm range while the clean-up tank was pumped down (see Graph 1 below).
Graph 1: Topsides Trial for HYTREAT DF 12851A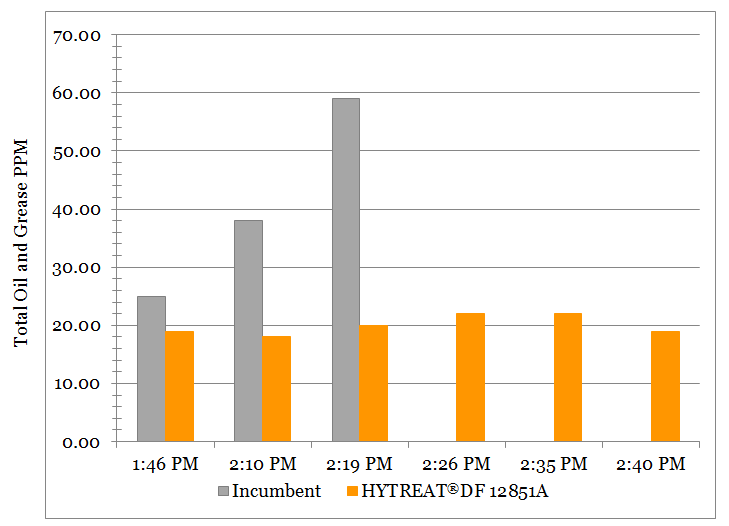 This information corresponds to the present state of our knowledge and is intended as a general description of our products and their possible applications. Clariant makes no warranties, express or implied, as to the information's accuracy, adequacy, sufficiency or freedom from defect and assumes no liability in connection with any use of this information. Any user of this product is responsible for determining the suitability of Clariant's products for its particular application.*Nothing included in this information waives any of Clariant's General Terms and Conditions of Sale, which control unless it agrees otherwise in writing. Any existing intellectual/industrial property rights must be observed. Due to possible changes in our products and applicable national and international regulations and laws, the status of our products could change. Material Safety Data Sheets providing safety precautions, that should be observed when handling or storing Clariant products, are available upon request and are provided in compliance with applicable law. You should obtain and review the applicable Material Safety Data Sheet information before handling any of these products. For additional information, please contact Clariant.
*For sales to customers located within the United States and Canada the following applies in addition: NO EXPRESS OR IMPLIED WARRANTY IS MADE OF THE MERCHANTABILITY, SUITABILITY, FITNESS FOR A PARTICULAR PURPOSE OR OTHERWISE OF ANY PRODUCT OR SERVICE.
Copyright © Clariant International Ltd, 2013.