WellBoost™ 401T* Increases Production for Cotton Valley Shale Operator by 23%
Benefits
Clariant Oil Services provided superior product performance as confirmed by third-party, industry-wide, best-in-class testing
Clariant Oil Services documented and maintained a consistent injection rate, thus providing invaluable optimization data
Average monthly gas production increased from 138 Mscfd to 171 Mscfd, an increase of 32.7 Mscfd (23.7%)
Clariant Oil Services stabilized gas production by reducing major fluctuations with a steady state deliquification injection of WellBoost 401T
Background
An operator in the Haynesville Shale had a gas well with average production in December and January of 137.9 Mscfd. The operator switched chemical providers and, on February 1, Clariant Oil Services began foam-treating the well.
WellBoost 401T, a multi-functional product of foamer surfactant, scale inhibitor and corrosion inhibitor developed by Clariant Oil Services, was applied, and average production increased to 170.7 Mscfd of gas in February and March. The WellBoost 401T chemical foamer technology was applied via capillary with a bottomhole temperature of 260⁰F.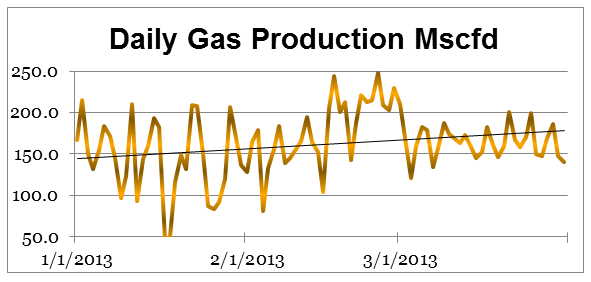 Innovation and Value Delivered
Clariant Oil Services offers a customized level of service to meet customer needs and help them discover their gas well's full potential. By implementing its 5-step process, Clariant Oil Services was able to optimize and administer the most appropriate chemical injection rate. As a result, the average monthly gas production increased by 23.7%. The 5-step process is continually applied by our deliquification experts to ensure all relevant factors are considered and the most appropriate treatment is identified for each individual gas well.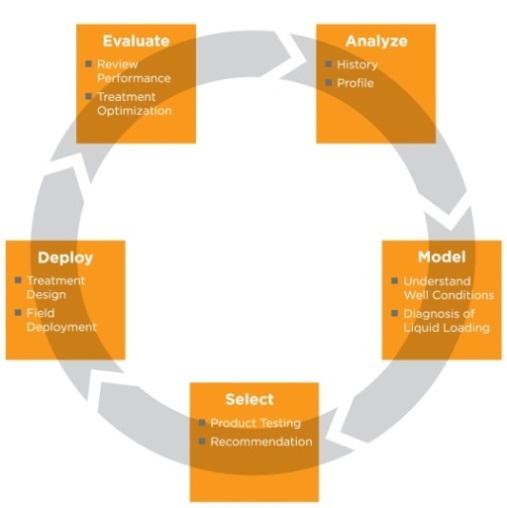 This information corresponds to the present state of our knowledge and is intended as a general description of our products and their possible applications. Clariant makes no warranties, express or implied, as to the information's accuracy, adequacy, sufficiency or freedom from defect and assumes no liability in connection with any use of this information. Any user of this product is responsible for determining the suitability of Clariant's products for its particular application.*Nothing included in this information waives any of Clariant's General Terms and Conditions of Sale, which control unless it agrees otherwise in writing. Any existing intellectual/industrial property rights must be observed. Due to possible changes in our products and applicable national and international regulations and laws, the status of our products could change. Material Safety Data Sheets providing safety precautions, that should be observed when handling or storing Clariant products, are available upon request and are provided in compliance with applicable law. You should obtain and review the applicable Material Safety Data Sheet information before handling any of these products. For additional information, please contact Clariant.
For sales to customers located within the United States and Canada the following applies in addition: NO EXPRESS OR IMPLIED WARRANTY IS MADE OF THE MERCHANTABILITY, SUITABILITY, FITNESS FOR A PARTICULAR PURPOSE OR OTHERWISE OF ANY PRODUCT OR SERVICE.
™ Trademark application filed in many countries by Clariant
*Previously sold as SURFTREAT® 1856T