September 05, 2013
WellBoost™ 402 Foamer Increases Gas Production by Almost 60%
Benefits
Increased gas production by almost 60%, from an average of 250 Mscfd to an average of 628 Mscfd
Eliminated fluctuations in production
Increased the amount of liquid removed from the wellbore without water quality issues
Background
An operator in the Haynesville Shale, USA, was experiencing large fluctuations in gas production, averaging just 250 Mscfd. Additionally, the well was slugging and the incumbent chemical supplier was unable to provide a solution suitable to the operator.
Clariant Oil Services was contacted by the operator and asked to provide a chemical foamer program that would both stabilize production (eliminate fluctuations in production) and increase gas production. After a system analysis and product testing, Clariant Oil Services recommended its WellBoost 402 technology, a multi-functional product of foamer surfactant, scale inhibitor and corrosion inhibitor.
Innovation and Value Delivered
WellBoost 402 was applied at 7 gallons per day, and the average well production rate quickly increased to 628 Mscfd. Additionally, the WellBoost 402 technology eliminated the large fluctuations in production by removing more fluid from the wellbore (see Figure 1). The operator, pleased with the results, switched chemical providers, and Clariant Oil Services has been successfully treating the well ever since.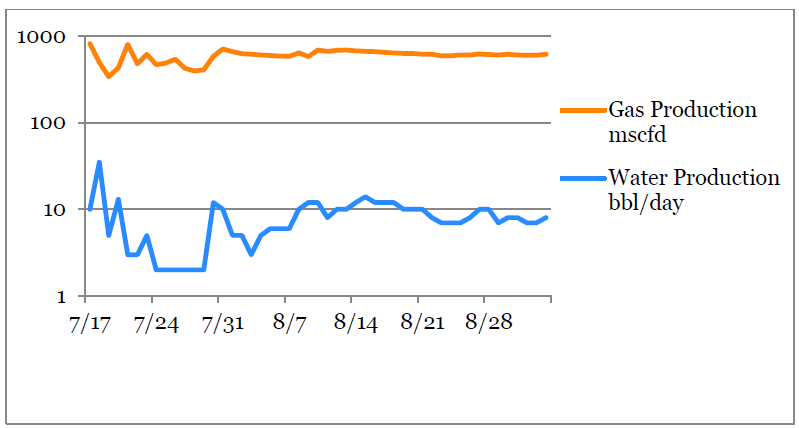 Clariant Oil Services' 5- step gas well deliquification process, which is continually applied by our deliquification experts to ensure all relevant factors are considered and the most appropriate treatment identified for each individual gas well, ensures the most suitable chemical and injection rate is administered to optimize production. This custom level of service helps customers discover their gas well's full potential.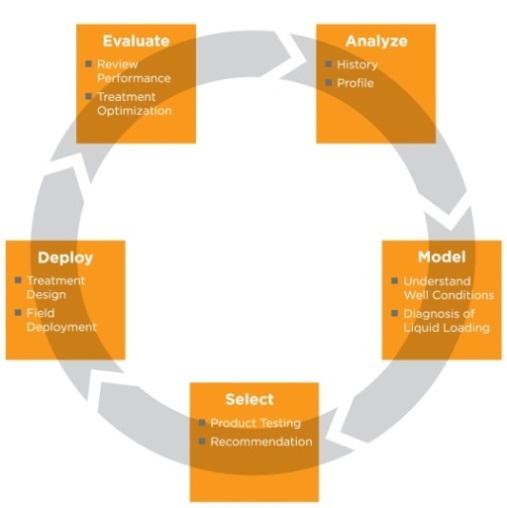 This information corresponds to the present state of our knowledge and is intended as a general description of our products and their possible applications. Clariant makes no warranties, express or implied, as to the information's accuracy, adequacy, sufficiency or freedom from defect and assumes no liability in connection with any use of this information. Any user of this product is responsible for determining the suitability of Clariant's products for its particular application.*Nothing included in this information waives any of Clariant's General Terms and Conditions of Sale, which control unless it agrees otherwise in writing. Any existing intellectual/industrial property rights must be observed. Due to possible changes in our products and applicable national and international regulations and laws, the status of our products could change. Material Safety Data Sheets providing safety precautions, that should be observed when handling or storing Clariant products, are available upon request and are provided in compliance with applicable law. You should obtain and review the applicable Material Safety Data Sheet information before handling any of these products. For additional information, please contact Clariant.
*For sales to customers located within the United States and Canada the following applies in addition: NO EXPRESS OR IMPLIED WARRANTY IS MADE OF THE MERCHANTABILITY, SUITABILITY, and FITNESS FOR A PARTICULAR PURPOSE OR OTHERWISE OF ANY PRODUCT OR SERVICE.
Copyright © Clariant International Ltd, 2013.