BIOTREAT 4696S Provides Step Change Improvement; Reduces Biocide Treatment Costs by 35%
Benefits
Reduction in the bacteria concentration in oil and produced water systems decreased the likelihood of microbiologically-influenced corrosion (MIC)
35% Reduction in annual biocide treatment costs
Significant decrease in tank movements reduced logistics costs and improved HS&E profile
Approved for use in the North Sea: UK Gold Non-sub; Norway Yellow
Background
A major operator producing in the Norwegian Sector of the North Sea was experiencing high numbers of bacteria in the oil and produced water system. Typical measurements of sessile SRB and GHB were 107 and 106, respectively.
Historically, the system had been treated with a 50% active glutaraldehyde solution upstream and downstream of the first stage separator.
The biocide treatment strategy included weekly batch treatments in the region of 5000 ppm to 10,000 ppm with a 4- to 5-hour contact time, without a significant affect on bacteria numbers.
Bacteria levels of this order increase the risk of MIC and potential for hydrocarbon leaks; therefore, Clariant Oil Services was asked to develop and recommend a biocide to control the bacteria numbers in the system.
Innovation and Value Delivered
Clariant Oil Services' biocide specialists developed a new product for this application, BIOTREAT 4696S. This product is a multi-component formulation optimized for enhanced biopenetration.
A field trial of BIOTREAT 4696S was proposed, together with a monitoring program to compare performance to the previous treatment. Sessile bacteria performance was measured using the MPN methodology.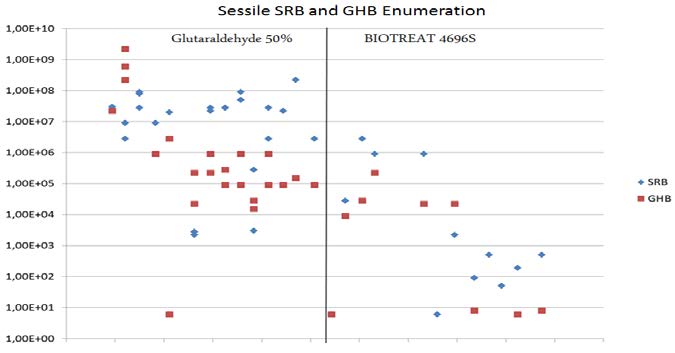 The trial was very successful and bacteria counts for SRB reduced from 107 to 102, while GHB reduced from 105 to 100. As a consequence, the likelihood of MIC was significantly reduced.
BIOTREAT 4696S delivered outstanding performance at a lower dose rate as well, resulting in a 35% reduction of the annual treatment cost. The number of tank movements also reduced, improving the HS&E profile.
BIOTREAT 4696S is approved for use in Norway and the UK.
Use biocides safely. Always read the label and product information before use.
This information corresponds to the present state of our knowledge and is intended as a general description of our products and their possible applications. Clariant makes no warranties, express or implied, as to the information's accuracy, adequacy, sufficiency or freedom from defect and assumes no liability in connection with any use of this information. Any user of this product is responsible for determining the suitability of Clariant's products for its particular application.*Nothing included in this information waives any of Clariant's General Terms and Conditions of Sale, which control unless it agrees otherwise in writing. Any existing intellectual/industrial property rights must be observed. Due to possible changes in our products and applicable national and international regulations and laws, the status of our products could change. Material Safety Data Sheets providing safety precautions, that should be observed when handling or storing Clariant products, are available upon request and are provided in compliance with applicable law. You should obtain and review the applicable Material Safety Data Sheet information before handling any of these products. For additional information, please contact Clariant.
*For sales to customers located within the United States and Canada the following applies in addition: NO EXPRESS OR IMPLIED WARRANTY IS MADE OF THE MERCHANTABILITY, SUITABILITY, FITNESS FOR A PARTICULAR PURPOSE OR OTHERWISE OF ANY PRODUCT OR SERVICE.
Copyright © Clariant International Ltd, 2013.