FLOTREAT DF 12874 Eliminates Asphaltene Deposit on Topside Choke
Benefits
Eliminated asphaltene deposits on the topside choke
Decreased differential pressure by 1000 psi
Stablized asphaltenes at half the incumbent's injection rate
Background
A producer in the Gulf of Mexico, operating a 10-mile subsea tieback (SSTB), was using an asphaltene inhibitor that was ineffective against the severe asphaltene precipitation that the flowline was experiencing. Even at very high dose rates, solid asphaltenes were still precipitating out in the flowline causing the differential pressure to build to dangerous levels. In just six days, a 1000 psi increase in flowline differential pressure had occurred.
Additionally, evidence of solid asphaltenes were present in the topside choke. In order to get the choke to function properly, the producer was required to shut-in the well, disassemble the topside choke and remove the asphaltene accumulation.
Clariant Oil Services Solutions and Value Delivered
To help treat the asphaltene issues on the SSTB, Clariant Oil Services recommended the continuous downhole injection of its asphaltene inhibitor FLOTREAT DF 12874. Subsequent field tests indicated that the asphaltenes had stabilized after FLOTREAT DF 12874 was injected into the SSTB, and at half the incumbent's injection rate.
Furthermore, the differential pressure fell by 1000 psi, indicating FLOTREAT DF 12874 had dissolved the partial asphaltene subsea flowline plug. Results can be seen in Graph 1 below.
Graph 1: Subsea Flowline Differential Pressure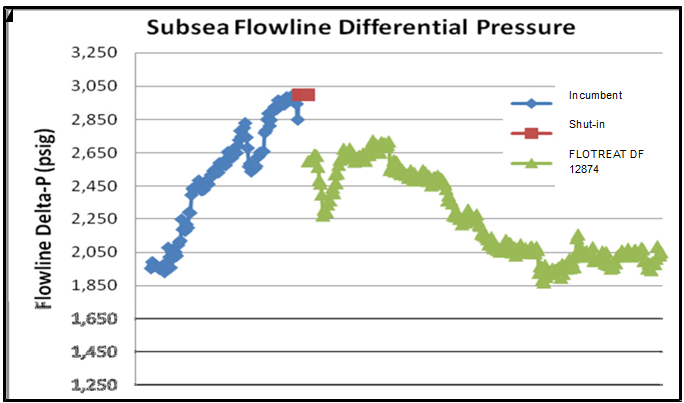 Asphaltene-coated choke with incumbent asphaltene inhibitor.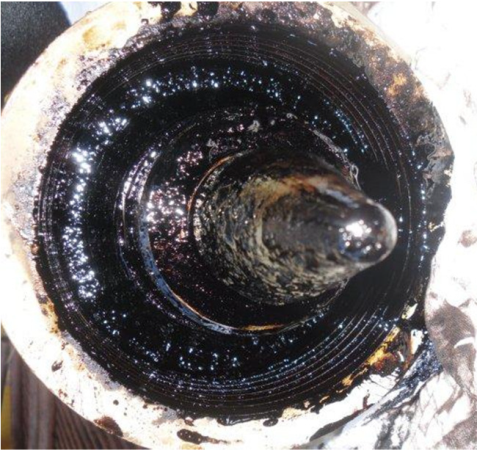 Clean choke after the application of FLOTREAT DF 12874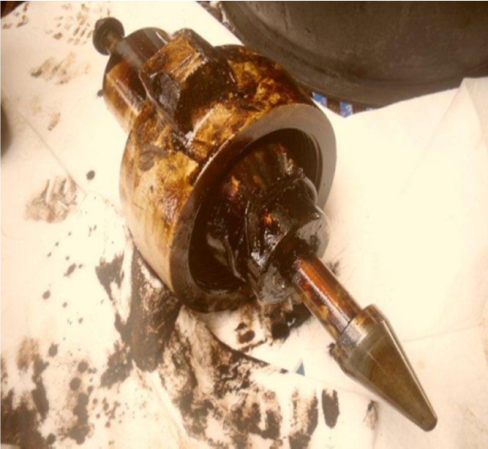 This information corresponds to the present state of our knowledge and is intended as a general description of our products and their possible applications. Clariant makes no warranties, express or implied, as to the information's accuracy, adequacy, sufficiency or freedom from defect and assumes no liability in connection with any use of this information. Any user of this product is responsible for determining the suitability of Clariant's products for its particular application.*Nothing included in this information waives any of Clariant's General Terms and Conditions of Sale, which control unless it agrees otherwise in writing. Any existing intellectual/industrial property rights must be observed. Due to possible changes in our products and applicable national and international regulations and laws, the status of our products could change. Material Safety Data Sheets providing safety precautions, that should be observed when handling or storing Clariant products, are available upon request and are provided in compliance with applicable law. You should obtain and review the applicable Material Safety Data Sheet information before handling any of these products. For additional information, please contact Clariant.
*For sales to customers located within the United States and Canada the following applies in addition: NO EXPRESS OR IMPLIED WARRANTY IS MADE OF THE MERCHANTABILITY, SUITABILITY, FITNESS FOR A PARTICULAR PURPOSE OR OTHERWISE OF ANY PRODUCT OR SERVICE. Copyright © Clariant International Ltd, 2013.