May 30, 2014
HYTREAT DF 12851A, from Clariant Oil Services, Increases Production and Maintains Water Quality
Benefits
Minimized downtime following shut-in and cold start, yielding increased production
Significant logistics and handling savings due to treatment volume reduction by 60 folds over methanol
Decreased contaminating crude oil and produced water positively impacting HSE
Background
A producer in the Gulf of Mexico began treating one of its wells with Clariant Oil Services' HYTREAT DF 12851A, an anti-agglomerant hydrate inhibitor. Based on hydrate modelling, the conditions of the well were high-risk for hydrate formations during start-up and required to be protected from hydrate formations.
During all planned or unplanned shut-ins, it was essential to treat all production fluids that remained in the flowlines, due to the uncertainty of conditions during downtime and in order to prevent hydrate formations once the well restarted.
Innovation and Value Delivered
Fully treating the well with methanol would require a rate of 57 gallons per minute (gpm) for a minimum of three hours for a planned shut-in, or typically for much longer if the shut-in is unplanned and emergent in nature. However, with Clariant Oil Services' HYTREAT DF 12851A, a rate of 0.95 gpm on average was sufficient.
Field treatment rates and results can be seen in the chart below.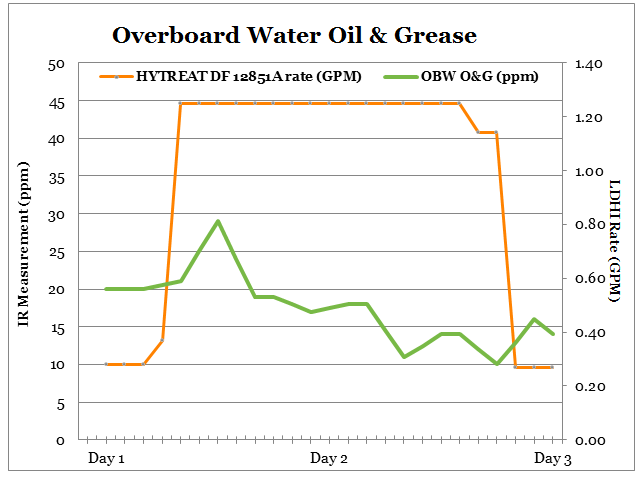 Treatment with HYTREAT DF 12851A increased production for the producer due to minimized downtime following a shut-in, as well as provided a more sufficient flow assurance treatment when compared to methanol. Furthermore, HYTREAT DF 12851A decreased contaminating crude oil and produced water.