Clariant Oil Services Develops Best-in-Class Corrosion Inhibitor for Oil Gathering System
Benefits
Reduction of general, local and preferential weld corrosion rates
Reduction in corrosion-related leaks and environmental incidents
Improved integrity management ownership
Background
A major international oil company operates an onshore oil gathering system in the UK. The system has two main oil pipelines which were buried and initially operated without the deployment of corrosion inhibitor. After four years of operation, multiple corrosion failures were experienced. The failure mechanisms were confirmed as localized pitting corrosion and preferential weld attack.

Clariant Oil Services was asked to participate in a best-in-class exercise to enable the operator to implement the best available corrosion inhibitor.
Innovation and Value Delivered
Clariant Oil Services corrosion specialists conducted extensive laboratory work to design a corrosion inhibitor specifically for this application. CORRTREAT® 703AF was selected by the operator, as it provided excellent inhibition toward general and local corrosion and exceptional protection against preferential weld attack.
Following deployment, routine monitoring of water corrosivity and corrosion coupons showed that the general corrosion rates had significantly decreased and remained controlled well below the target level. The corrosion coupons do not exhibit evidence of pitting corrosion. Intelligent pig surveys of the pipelines also confirm that existing weld defects have not significantly deteriorated. Since CORRTREAT 703AF has been deployed, the pipelines have not suffered further corrosion failures.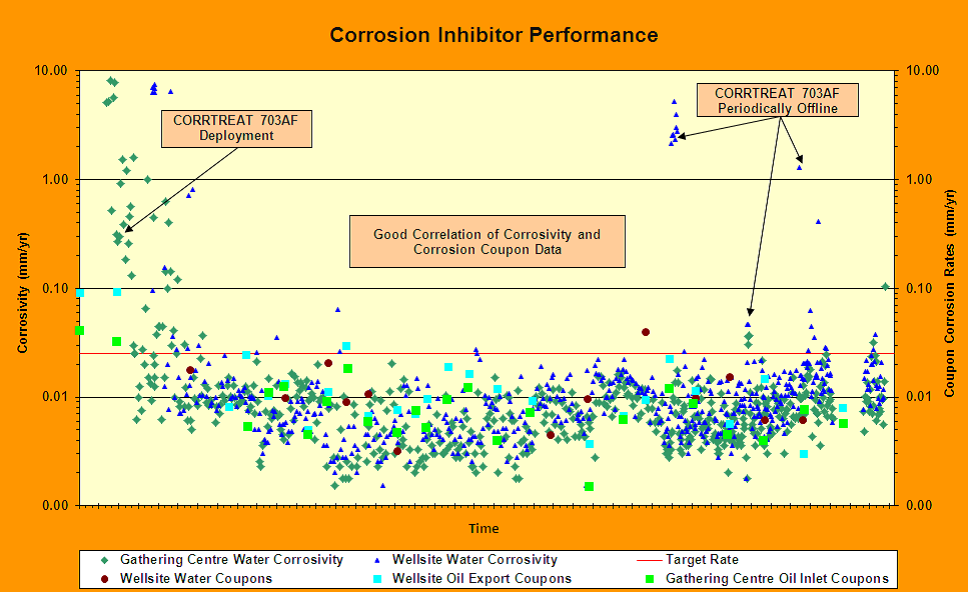 Furthermore, Clariant Oil Services provided on-site chemical management services to provide ownership of all chemical deployment activities.