Clariant dedicates unique ingredients and customized formulations to local personal-care customers in China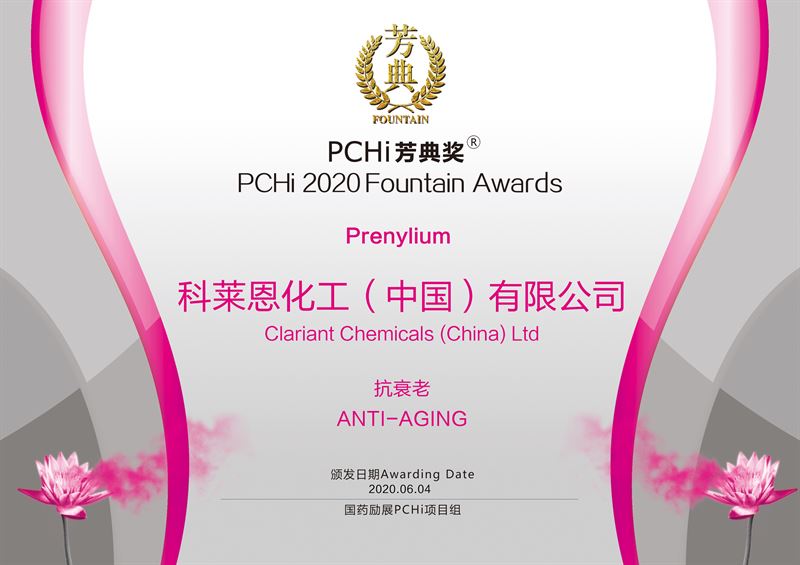 PCHi 2020 Fountain Award-winning PrenyliumTM "anti-aging" active ingredient to be showcased under the latest BeautyForward® theme

New generation of unique and precise personal care formulations will be showcased at Clariant's online booth from Aug 3 on

Comprehensive portfolio of formulations for various skin and hair care scenarios tailor-made to local customers' needs and supported by local technical team in China 
Shanghai, July 6, 2020–Clariant will highlight for the personal care market in China a new generation of formulations that satsify a wide variety of customer needs through its online booth at Clariant WeChat Service Account "ClariantSolutions" from Aug 3, 2020 on.
As the personal care market in China continues to expand, consumers demand more sophisticated solutions that help them satisfy different needs for various occasions and at different times of the day. Clariant's formulation labs in China keep close tabs on local customer needs and are fully capable of providing customized formulations based on the local market's needs.
Clariant will take online visitors on a beauty forward journey through dedicated formulations.The exciting line-up of products includes a hydrating and long-lasting skin-nourishing rich cream that soothes like ice cream, a smooth highlighter that protects the eye skin with a wet satin glow, as well as other tailor-made unique and precise formulations to local customers in China.
At its online booth, one new product from Clariant will be given special highlight. Thanks to its new partnership with French biotechnology company Plant Advanced Technologies (PAT), the PrenyliumTM active ingredient extracted from white mulberry tree roots helps protect the skin's matrisome from degradation that occurs with time and UV exposure. Produced through the patented Plant Milking Technology1, Prenylium obtains its exceptional high concentration of prenylated flavonoids in a highly sustainable manner, which can help prevent signs of aging by visibly reducing the appearance of existing wrinkles and smoothing skin.
Without destroying the tree and allowing for the production of rare compounds at an industrial scale, Prenylium produced by Plant Milking Technology is suitable for a wide range of applications, including anti-aging creams, plumping serums, rejuvenation night creams, and other smoothing products. Recently, Prenylium won PCHi 2020 Fountain Award due to its significant effect on "anti-aging"
"Clariant will highlight our latest portfolio of natural personal care formulations featuring local market elements that help satisfy different requirements from consumers and brand owners. Comprehensive formulation support readily available from our local technical team is bringing our products and services even closer to our local customers here in China," said Zhigang Miao, Head of Clariant's Business Unit Industrial and Consumer Specialties, China.
With so many great personal care formulations boasting a host of different features, finding the right products might be a challenge. Clariant is also making efforts on a dedicated "mapping tool" that will help customers find the products they want from Clariant official website quickly.
To learn more about Clariant's innovative solutions and customized services for the Chinese personal care market, please visit "Latest Activities" menu at WeChat Service Account "ClariantSolutions" from Aug 3 on.
1 PAT's Plant Milking Technology offers premium root power from sustainable production. Few plant resources are needed to create the active ingredient, active compounds are stimulated to get enhanced phytochemical profile, and roots regrow after harvesting. Other benefits include recycling of water used for root growth, discovery & optimization of plant capacities, and full traceability from seed to active ingredient as cultivation and production occur at one location.