Prevent Moisture Damage in Shipments of 3D Printer Filament
WITH DESI PAK® DESICCANTS AND HUMITECTOR™ HUMIDITY INDICATOR CARDS
The presence of moisture may pose a problem for some manufacturers of 3D printer filaments during packaging, shipping, and storage. Moisture can become problematic anytime from the point of initial packaging up to the point of final exportation in a loaded shipping container. In addition, long supply chain delays can exacerbate the problem by increasing the length of time the product is potentially exposed to damaging environmental conditions such as mild or even high humidity. Here's why.

Many common 3D printer filaments are hygroscopic and will easily adsorb moisture when not properly packaged. If so, there is no change in the filament's texture; one can not see the filament has adsorbed moisture. Unfortunately, filaments affected by moisture may not print properly and could potentially be susceptible to hydrolysis during the printing process. Moisture-damaged filaments may be rejected or returned by customers, potentially harming the brand's reputation.

Moisture in filaments can lead to:

inferior surface finish
inferior dimensional tolerance
weakened parts
print jams in the nozzle
hydrolysis of polymers leading to weakened polymer bonds (depolymerization)

High or even mild humidity in shipping containers can lead to:

peeling labels
packaging deterioration and failure




SOLUTIONS

Product Packaging: 3D printer filaments are protected against the harmful effects of moisture with Clariant's Desi Pak® Bentonite Clay Desiccants and Humitector™ Humidity Indicator Cards.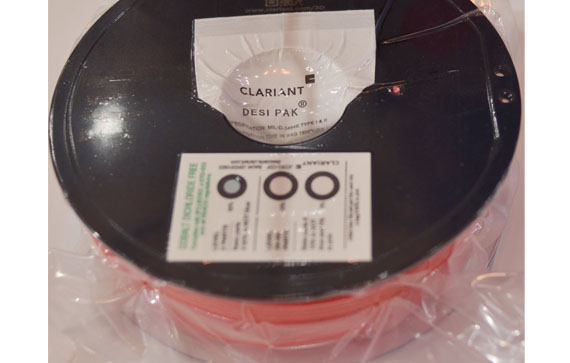 Source: Clariant

Desi Pak bentonite clay desiccants provide a simple, dependable, and economical solution for reducing or helping to prevent moisture damage in enclosed packages. In contrast to other synthetic desiccants, Desi Pak consists of a naturally occurring mineral that has undergone minimal processing. It is non-corrosive, neutral, inert, and remains free-flowing at full adsorption.

HUMITECTOR™ humidity indicator cards provide a visual indication of the level of humidity present in the packaging. If moisture is present, the humidity indicator card will register the humidity as a color change from blue (dry), to lavender, to pink (wet).

The use of Desi Pak bentonite clay desiccants and HUMITECTOR humidity indicator cards help provide proof that 3D printer filaments are dry and ready to use.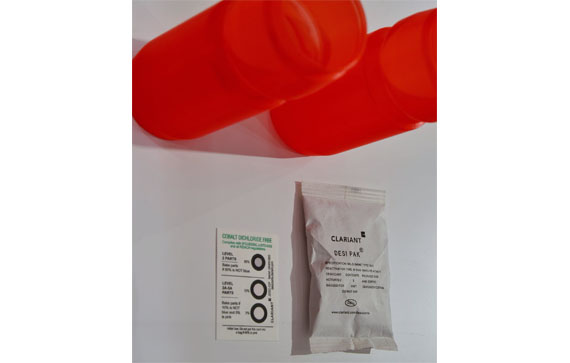 Source: Clariant

Container Shipping: 3D printer filaments ready for export in fully loaded shipping containers are protected against the harmful effects of moisture with Container Dri® II cargo desiccants.

Container Dri® II cargo desiccants aggressively absorb moisture from the environment and trap it in a no-spill gel. This action helps prevent condensation from forming on the walls of the container that may cause "container rain," wetting the cargo. Container Dri II is easy to handle, with no complicated instructions; when ready to use, unpack and hang from the eye hooks inside the container, or depending on the configuration, peel the adhesive backing and place it inside the corrugated grooves. Download the Container Dri II Installation Infographic to learn more and see how easy it is to install. Container Dri II carries Clariant's ECOTAIN® label for products with outstanding sustainability advantages. Products with the ECOTAIN label have undergone a systematic, in-depth screening process using 36 criteria in all three sustainability dimensions: social, environmental, and economic.