The Joyologist
Live and love your beauty!
The joyologist is someone whose job it is to encourage and inspire people to truly live and love themself and enjoy life, to have inner wellness through pleasure and happiness. Clariant Actives & Natural Origins created two formulations under the concept "The Joyologist", with skin cares that can be used complementary in a daily routine to bring joy to the skin and the mood, backed by scientific studies:

- The "Feel-Good Magic Stick", an aqueous gel stick to use at any moment of the day when you feel the need for a well-being push.

- The "Forget It All Relaxing Mask", a face mask to apply on the skin at the end of the day, to take a moment just for yourself, to get rid of negative thoughts and enjoy the present time.

These formulations are offered in a relaxation set, for a holistic approach all along the day.
Feel-Good Magic Stick
This aqueous gel formulation has a lightweight, non-greasy texture that absorbs quickly into the skin, leaving it feeling soft and hydrated, with a fresh watery sensation. It can be used at any moment of the day, whenever you feel the need for a fresh well-being push.

This stick is fueled with mood and skin relaxing active ingredients and sustainably-sourced white clay: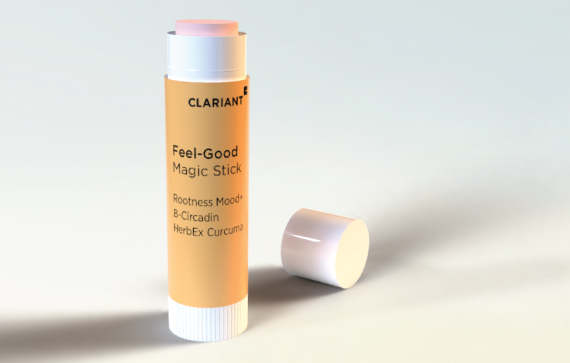 INCI: Water, Butylene glycol, Corn Starch Modified, Glycerin, Sodium Stearate, Propanediol, Kaolin, Carrageenan, Lespedeza Capitata Leaf/Stem Extract, Curcuma Longa Tumeric Root Extract, Sanguisorba Officinalis Root Extract, Potassium Sorbate, Citric Acid, Sodium Benzoate, Fragrance, CI 19140, CI 14720, CI 16255
Forget-It-All Relaxing Mask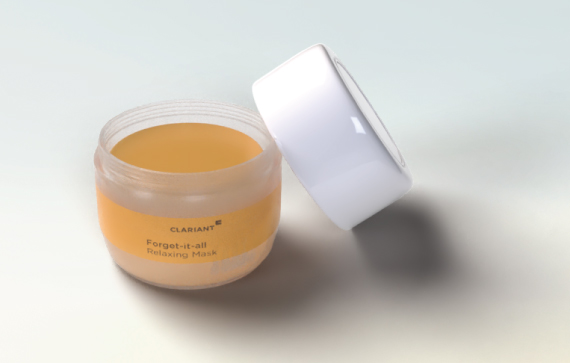 INCI: Water, Kaolin, Sucrose Polystearate, Cetearyl Alcohol, Olea Europaea (Olive) Oil Unsaponifiables, Copaifera Officinalis (Balsam Copaiba) Resin, Passiflora Edulis Seed Oil, Magnesium Aluminium Silicate, Glycerin, Phenoxyethanol, Sorbitan Caprylate, Panthenol, Squalane, Xantham Gum, Tocopherol
This mask has a soft texture, making it pleasant to apply to the skin. After 20 minutes, you will feel relaxed and soothed, just like your skin!

In color therapy, yellow is linked to joy. The golden color of this mask combined with a natural active ingredient with CBD-like activities that soothes the skin and bring sensations of comfort, makes it the ideal beauty care after a busy day!

Here are the two main ingredients of this highly relaxing mask:

Beracare CBA, activates CB2 receptors to soothe sensitive skin for a calming effect
Beraca Gold Clay, provides a lush appearance to the skin
Offered in a kit dedicated to relaxation and well-being
The "Feel-Good Magic Stick" and the "Forget-It-All Relaxing Mask" come in a box with a nicely scented candle and a link to a relaxing playlist, designed to create a multi-sensorial experience.

While the stick is to be used at any moment during the day, thanks to it format that makes it easy to take everywhere, the mask can be used at the end of busy day to take a moment just for yourself. Just lit the candle, put the mask over your face, launch the playlist using the QR code provided in the box, and enjoy the moment for 20 minutes, to feel fully relaxed!