Styrene Production
Maximum Performance with StyroMax Catalysts
Optimize the productivity and performance of your styrene monomer production plant with Clariant – a leading, independent global catalyst supplier with over 70 years of experience in styrene catalysis.

We combine a matchless portfolio of high-performance StyroMax® dehydrogenation catalysts with expert technical support to deliver innovative solutions that meet your exact needs. Discover how we can help you reach your targets – reliably, economically, and sustainably.

For even greater reliability, all our StyroMax Catalysts are also available in our exclusive rib shape, designed to drastically lower pressure drop.
70 Years of Steam Reduction

Why use Clariant Styrene Catalysts?
EXTENSIVE EXPERIENCE

production cycles

using Clariant styrene catalyst over 70 years
EXPERT SUPPORT

regional engineering offices

located close to our customers
HIGH SATISFACTION

repeat customers of StyroMax

due to excellent selectivity and activity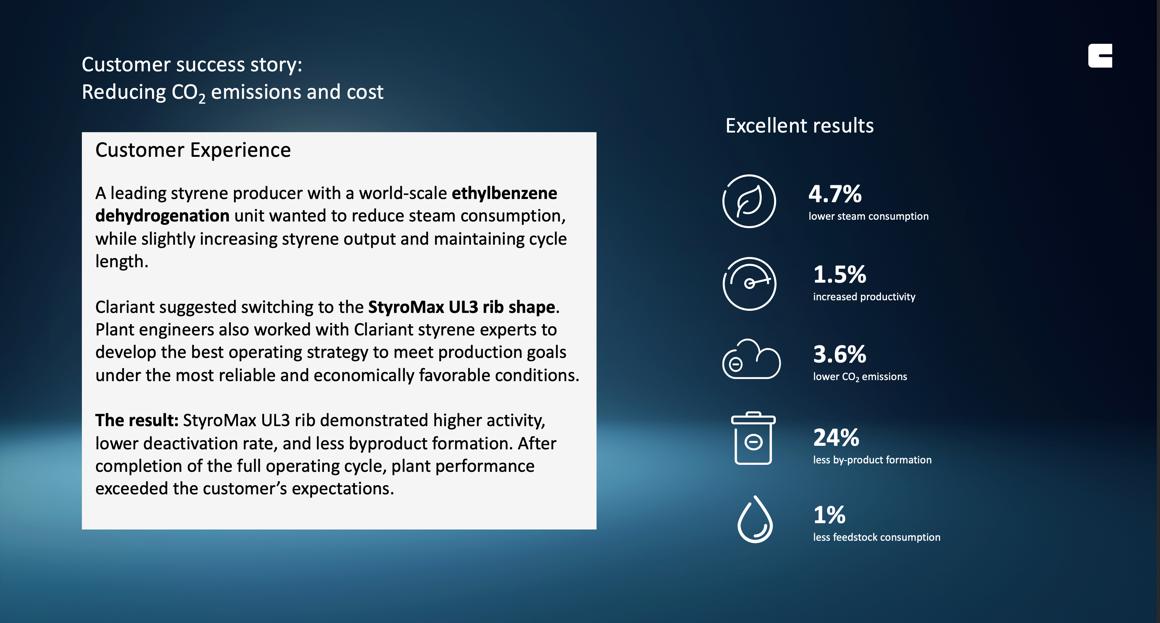 Solutions that Drive Performance
November 30, 2022
Clariant's NiSat® 310 catalyst adds polishing touch to Evonik-tkIS HPPO process at propylene oxide plant in China
November 30, 2022
Clariant Catalysts has teamed up with Evonik and thyssenkrupp Industrial Solutions (tkIS) in a major propylene oxide project for one of China's largest rubber producers. Qixiang Tengda is one of the leading global producers of carbon-four chemical products, such as methyl ethyl ketone and maleic anhydride. Expanding into the carbon-three value chain, the company's new propylene oxide plant in Zibo city, Shandong province, relies on Evonik-tkIS HPPO technology to convert propylene in the presence of hydrogen peroxide (HP) directly into propylene oxide (PO). The plant will have an annual production capacity of 300,000 tons.
more
Any Questions?
CONTACT US