Ready for a second life


Designing plastic packaging for circular use is not just a technical challenge. It requires a holistic approach and new forms of collaboration. An EcoCircle initiative called "Design4Circularity" helps pave the way.

A circular economy is humanity's best hope for a sustainable future. That is especially true for plastics, where the reuse of plastic materials in packaging could help cut vast amounts of waste and emissions. But what makes packaging truly circular? Together with leading industry partners, Clariant hopes to provide answers in a pioneering initiative called "Design4Circularity." Clariant is going to unveil its first circular packaging solution for personal care products at the K 2022, the world's leading trade fair for plastics and rubber which takes place in Düsseldorf, Germany, from 19 to 26 October 2022.

The packaging in question is a colorless bottle for skin care products. It is made from 100% post-consumer recyclate or PCR and wrapped in a full-body shrink sleeve that is easy to remove. Designing the bottle this way makes the components easy to sort and recyclable. This, in turn, helps the materials repeatedly find their way back into the loop, even for high-value applications. Perhaps most importantly, the design still allows for the kind of high-quality looks and distinctive shapes that consumers associate with popular cosmetics brands.

Rethinking Packaging Design
According to Richard Haldimann, Chief Technology and Sustainability Officer at Clariant, it is crucial to design circular packaging from the ground up: "Achieving circularity needs a complete shift in designing product packaging and packaging raw materials, considering sortability, recycling, and packaging end-of-life," he says. That is why "Design4Circularity" revolves around a unique collaboration between different industry partners. By bringing together Clariant, Siegwerk, Borealis, and Beiersdorf, the initiative combines unique expertise and different expectations along the entire packaging value chain.

Beiersdorf, for example, as a global producer of fast-moving consumer goods (FMCG) with popular brands such as Nivea and Eucerin, aims to combine the very particular design requirements of a cosmetic brand with full circularity. "We follow an ambitious sustainability agenda including the vision of fully circular resources," says Stefan Rüster, packaging expert at Beiersdorf. He sees the first joint product development in this field as ground-breaking for future cosmetics applications, not just at Beiersdorf: "We are very proud of this success and hope that this motivates our industry peers to follow."

Overcoming Material Limitations
Today, repeated recycling still strains plastic materials and leads to more and more contaminated input streams. That is why most PCR is still down-cycled. To give these plastics a second life in high-quality packaging, the materials must retain their value and purity even through multiple lifecycles. Among the most critical design parameters for "Design4Circularity" were thus the polymer and additive composition for both the sleeve and the bottle, sortability, de-inking, recyclability, and PCR quality.

The key to reaching these parameters was to combine new technologies and some highly specific know-how. For example, Borealis, one of the world's leading providers of circular polyolefin solutions and an expert in mechanical plastics recycling, contributed a high-quality PCR based on their proprietary Borcycle™ M technology. Clariant added its unique know-how in additive solutions to the mix to protect the material's quality and prevent the polymer chains from breaking down at each individual recycling step. Leading ink manufacturer Siegwerk provided its advanced ink systems. Using these on the bottle's sleeve makes for high-quality visual designs and easy de-inking after use.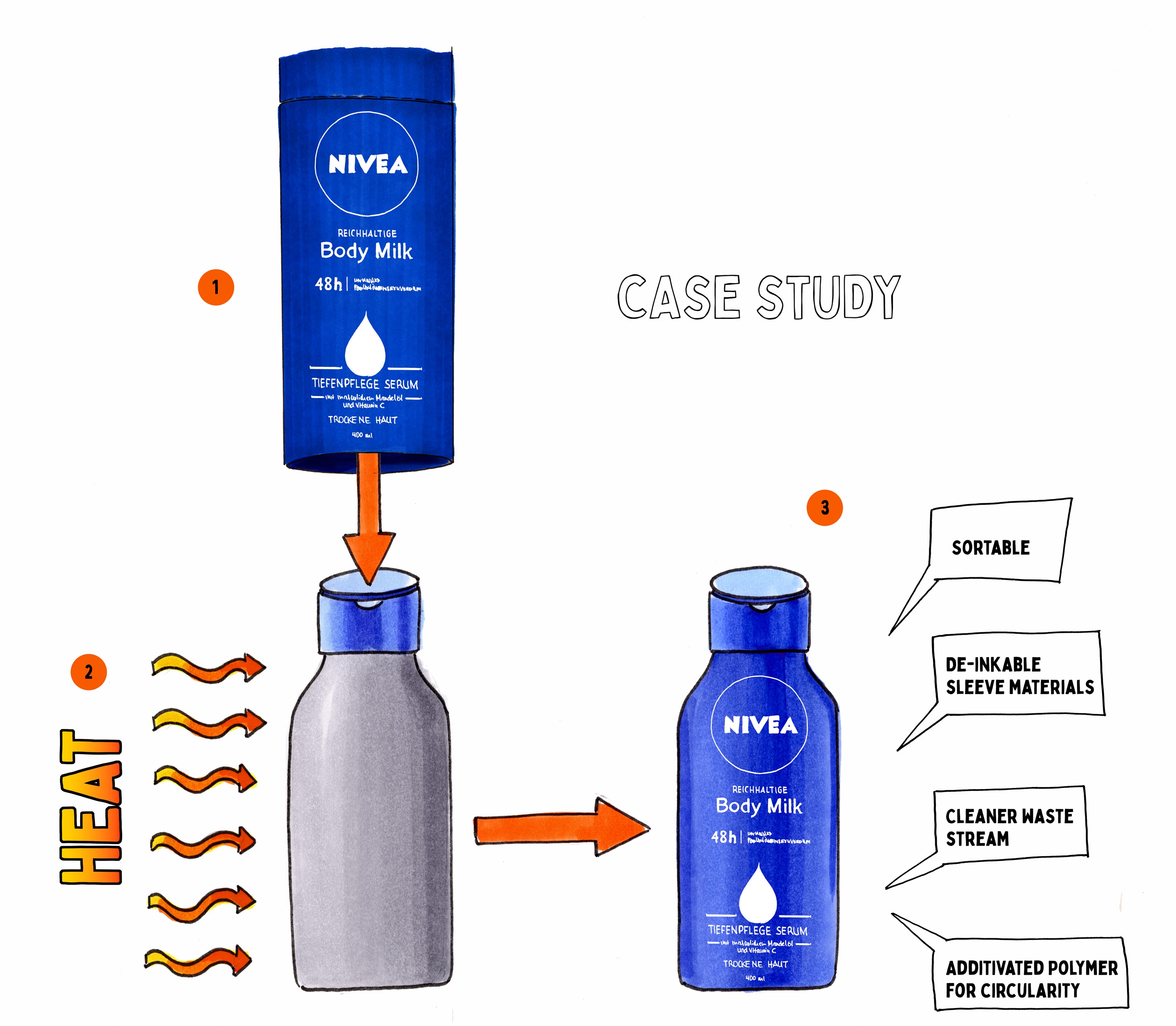 Illustration of "Design4Circularity"'s pioneering packaging concept for personal care.


Game-Changing Teamwork
"Our initiative is a frontrunner in uniquely assessing circularity in every design parameter, from additives to bottle material to inks, mapping industry competencies, potential gaps, and feasibility proof points to open up viable, ultimately circular solutions," says Belal Habib, Head of Brand Owner Collaboration at Siegwerk. As Clariant's Richard Haldimann explains: "This collaboration was possible because all participants are dedicated to a circular economy, with company-wide programs and holistic understanding of the systems involved."

The resulting solution is both practical and effective. Using standard recycling infrastructure, the partners of Design4Circularity were able to demonstrate improved sortability and high material recovery rates for sleeved bottles made of high-density polyethylene (HDPE). Trials with sleeved PET bottles showed similar results. There are still further advancements needed in sorting technology in order to achieve full circularity, especially for colorless plastics. Technologies such as digital watermarking or artificial intelligence could help. Nevertheless, the new packaging solution and the unique industry collaboration behind it are set to change the industry: "Transforming to a circular economy is a team effort," says Peter Voortmans, Global Commercial Director Consumer Product at Borealis. "Only together with like-minded partners can we shape an ever mindful tomorrow."
---

Clariant at K 2022
Sustainability and collaborations across value chains are major themes for Clariant at this year's K 2022. Not just for packaging. The company will present a host of new projects and products aimed at strengthening Clariant's position as an innovation and sustainability leader in different industries. Many are the result of close sector-focused collaboration. For example, Clariant will showcase several recent innovations in fire protection for plastics. In working with industry partners such as TE Connectivity and Lavergne, as well as the German Fraunhofer Institute, Clariant has developed fully circular flame retardants and solutions tailored to e-mobility. In collaboration with Floreon, Clariant helped make flame retarded, durable bioplastics a reality. Another example is Clariant's involvement in the new EU-funded REVOLUTION project, with 14 companies from across and beyond the automotive value chain working on lightweight and recycled plastic components for cars. Then there is Clariant's new portfolio of catalysts and adsorbents specifically designed for chemical recycling. Developed as part of Clariant's EcoCircle initiative, these products decontaminate pyrolysis oil generated from mixed plastics waste and make these oils fit for use in ethylene crackers.

---