August 17, 2023
Meet Adam Savin
Calling the past few months in Adam Savin's life »eventful« would be an understatement. After spending most of last winter getting himself in shape to run the London Marathon, Adam and his wife Claire – who also works at Clariant – recently welcomed their first child into this world.

Adam works as a Tender & Contract Manager for our Business Segment Oil in Aberdeen. And whether at home or at the office, he was never one to shy away from a challenge. Quite the contrary, in fact – as he tells us in a personal interview.
Hello, Adam. What does an average working day at Clariant look like for you?
Adam: I really don't think there is an average working day. I am very lucky to have a lot of variation in my role. I am speaking to colleagues across a wide geographic span working on different sales opportunities, each with their own unique set of challenges to overcome. The common factor would be the problem-solving aspect of the role. That, for me, is always the exciting part of working at Clariant.

What is the coolest project you're working on right now?
The Tender & Contract Management team is a brand-new concept for the oil business following a change in organization. As a team we have had to create and build up our own purpose and aims, as well as implementing how we will work with our colleagues to deliver successful tender submissions. We are probably about halfway through the process of establishing and cementing all the tools and best practices that we want to work with, but it has been really enjoyable for us to design this ourselves.

What are some of the biggest opportunities you've had at Clariant?
I think the biggest opportunity I was given was about one year into my career with Clariant. I was still early on in my professional career. At 22 years old I was given responsibility to manage a small technical team that provides support to customers. I had no prior management experience and limited customer facing experience, but I loved it. There were challenges along the way and a steep learning curve, but I think it set me up very well for all the roles I have held since.

Shortly into my tenure within that new role I had been asked to be part of a team that would be presenting to a client to expand our contract with them. I remember coming away from the presentation with such an adrenaline rush after they informed us that we had been successful. I think this would have been where I realized how much I liked the mix of technical and business development, which would lead me to where I am now.
How do you think your specific work makes an impact on Clariant?
I believe my work supports my colleagues with identifying and implementing new ideas to bring to their customers in both new and existing contracts that helps Clariant generate new opportunities in the future.

A good example is a long-term customer with whom we have just secured a new contract extension. The challenge we have is how do we build on that relationship? I was asked to take a look at what we have done in the past and what we are currently doing and identify what we could do to show continuous improvement for the customer.

The ideas that have been developed offered the team a fresh approach to engage with the customer, as well as provide them with added value with their day-to-day operations.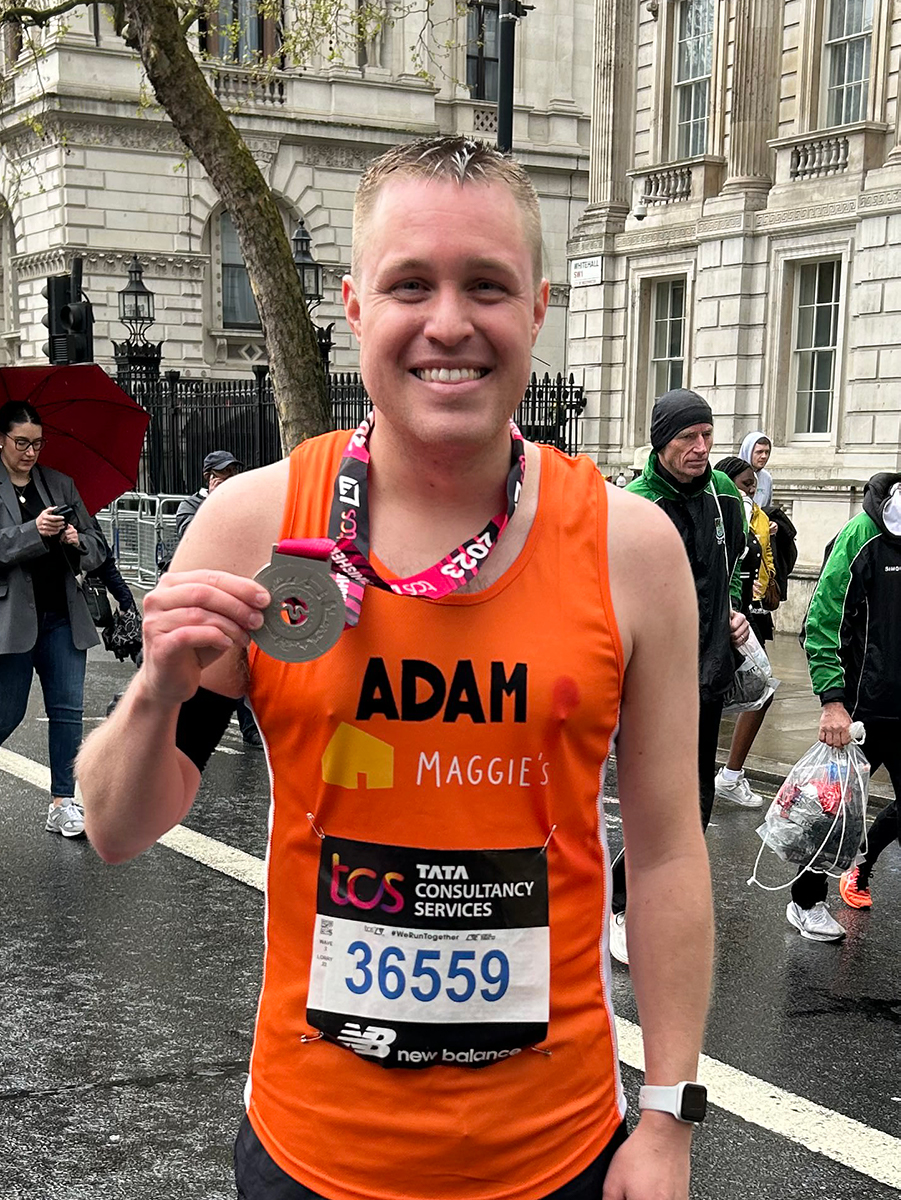 Adam ran the London Marathon in an incredible 3 hours and 28 minutes.
What is your favorite Clariant value, and why?
I resonate with Perform with agility most of all – I enjoy throwing myself into different challenges and grappling with new ideas and concepts. When faced with difficult situations or problems, I like to play out the scenarios or potential solutions through in my head and put them into action as quickly as possible. I get »itchy feet« if I don't feel like I am solving an issue!

What's the best thing about your job?
The ability to mix technical, commercial, strategic thinking and creativity all into one.

What's the best way to start the day?
Firstly, I need a coffee to wake myself up! Depending on the time of the year and how dark outside it is, I may go for a run, or, I will listen to some podcasts with the cat.

You ran the London Marathon in April. What was your most memorable experience during the race?
The amount of support received during the race from spectators was incredible. I was not expecting anything like that. Just as I was approaching Tower Bridge, I was met with a wall of noise from those watching at the side of the road – it was amazing and unforgettable.

Could you share some of the challenges you faced during your training and on the race day, and how you overcame them to achieve your goal?
I started training for the marathon about six months before the event, which overlapped with a Scottish winter. So, staying motivated and maintaining a training routine over the winter when it is dark, cold and icy outside wasn't easy.

On the days building up to the marathon I was really quite anxious. I had put in all this time and effort and started getting irrational fears of not being able to run or feeling fake injuries! As I was raising money for charity as well, I felt a bit of pressure to make sure I finished. In the end all the hard work paid off and I finished in 3 hours 28 minutes, so I was over the moon.
»I resonate with our value Perform with agility most of all – I enjoy throwing myself into different challenges and grappling with new ideas and concepts.«

Adam Savin, Tender & Contract Manager
Can you give us more info about the UK charity you've supported through this marathon?
I was raising money for a charity called Maggie's. Maggie's provides practical support to individuals living with cancer and their families. It operates centers, usually on the site of hospitals, where they run exercise classes, counselling sessions or general advice. Maggie's started in the UK and is now beginning to set up centers in other countries, including Japan, Hong Kong, Spain and Norway, as a result of the amazing work and benefits that the centers provide.

What is the luckiest thing that has happened to you?
Starting a family. I have recently become a father, and seeing my son's face light up in the mornings instantly makes the day better.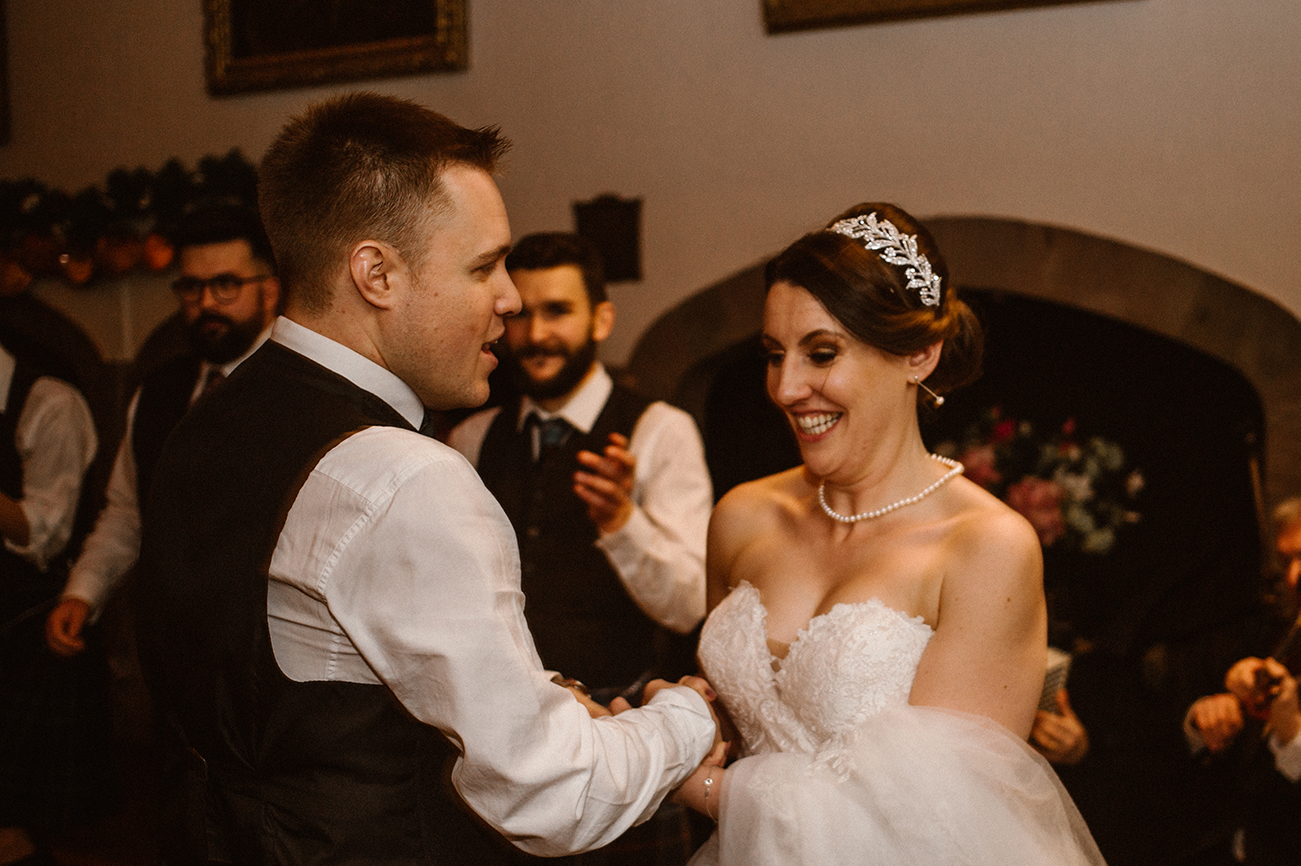 Adam and his wife, Claire, both work at Clariant.
What do you like doing on weekends?
Saturday mornings are usually reserved for parkrun. The ideal weekend is being out and about travelling and exploring – not being at the behest of household jobs and chores. Probably not something I can get away with now there is a little one to look after!

What skills would you like to master like nobody else?
Lightsaber skills.

What would be the most amazing adventure to go on?
I would love to go to into space!

If you could turn any activity into an Olympic sport, what would you have a good chance at winning a medal for?
Memorizing Clariant Oil Services product numbers.

Who gave you the best piece of advice in your life? What kind of advice was it?
My parents always tried to impart the importance of being open to change when I was younger, and I have tried to bring that mindset through into adulthood and my professional life as well.

What's your favorite invention?
I love photography and how it can capture key moments, but still gives room for the imagination about what may be going on. I used to spend spare time at school in the dark room developing my own film and photos and trying out different techniques to change how they looked. So, my favorite invention would be the camera.

What's a little-known fact about you?
Just before University I made a couple of short films that went on to be nominated for awards at some Youth film festivals both nationally and internationally. I was invited to an award ceremony for an organization that promoted young people getting involved with the film industry at Leicester Square in London in 2007. The organization had connections with the James Bond franchise and a number of actors who had been in the films were attending and presenting awards.

What is your favorite Clariant product and why?
I spent the first couple of years of my career at Clariant carrying out research and development into our sulfide scale inhibitor product range, SCALETREAT ZFD. It has been developed to treat challenging sulfide mineral deposits in oil and gas process systems. It's truly innovative as it uses different chemistry and mechanisms to conventional scale inhibitors. I loved working on it so it naturally would be a favorite of mine.

Looking to start your career or make your next move with Clariant? Find out more here.