May 03, 2023 | New York City, United States
NYSCC Suppliers' Day 2023
NYSCC Suppliers' Day serves as one of the most important events on the industry calendar in North America. It attracts thousands of the leading players in the market and has become the showcase for the latest innovations, on top of being an excellent networking opportunity. Join us to learn more about Clariant's latest product innovations!
New ingredient launches
Biodegradable rheology modifier - Aristoflex Eco T
The beauty industry's increasing focus on environmental sustainability and natural formulations requires alternatives to synthetic rheology modifiers. However, the performance drawbacks of natural thickeners can present a challenge to formulators aiming to create products with luxurious textures and skin feel. The new readily biodegradable rheology modifier combines the performance of synthetic polymers and sustainability of biopolymers, giving formulators the freedom to make sustainable and highly appealing end-consumer products.
Versatile emollient based on renewable raw materials - Plantasens Pro LM
Based on 100% renewable raw materials, readily biodegradable and COSMOS approved: This novelty emollient with high viscosity and low spreadability creates an indulging experience during application and a rich and caring skin feel. Compatible with a wide range of oils and waxes and excellent compatibility with organic sun filters, this emollient is the perfect choice for various body and face care formulations.
A root extract that mimics sunlike effects - Rootness Mood+
This new active ingredient comes from a co-development done with our partner Plant Advanced Technologies and is made from a root extract of a plant used in traditional Chinese medicine, cultivated in aeroponics conditions. This technology made it possible to find active molecules in the roots that have never been previously documented. Thanks to this, the active targets skin's wellbeing due to a sunlight-mimicking effect.
A responsibly sourced natural alternative to CBD - Beracare CBA
Made from a blend of two powerful oils responsibly sourced in the Amazon ecosystem, this active ingredient activates the cannabinoid receptors CB2 to soothe the skin and thus improve the wellbeing of sensitives skins.
Beraca, the perfect fit into Clariant's portfolio
With the integration of our long-term partner Beraca, Clariant now offers a full range of naturals for the cosmetic market with a positive sustainable and socioeconomic impact, in addition to our high-tech actives recognized by top level awards. We are very excited to feature the new Actives and Natural Origins portfolio at this year's NYSCC Suppliers' Day.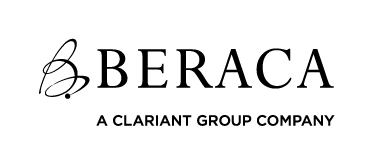 New ingredients launched at NYSCC Suppliers' Day