Ethylene dichloride and terephthalic acid catalysts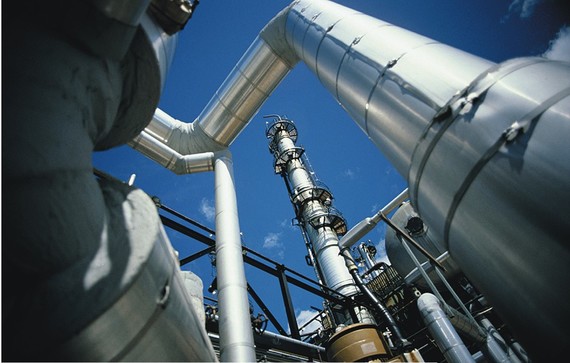 Production of ethylene dichloride (EDC) by oxychlorination
PVC (polyvinyl chloride) is one of the most widely manufactured synthetic plastic polymers. PVC is produced by polymerizing vinyl chloride monomer (VCM). Ethylene dichloride (EDC) forms the basis for this process. It is made from ethylene in a fluid-bed reactor via an oxychlorination process.

Clariant has offered catalysts for this oxychlorination process since 1983, and has continually improved their performance. Today, more than 40 plants operate with Clariant's OxyMax® fluid-bed catalyst series.

OxyMax® has been optimized for both air- and oxygen-fed fluid-bed processes. It works under a wide range of operative conditions, such as different feed gas compositions, temperatures, or plant capacities. OxyMax® catalysts offer high selectivity to EDC, combined with high activity and stability during operation.
Purification of terephthalic acid (PTA)
Terephthalic acid is a precursor to the polyester PET, used to make plastic bottles and clothing. Crude terephthalic acid is produced by catalytic air oxidation of p-xylene. During this process, unwanted by-products are formed. One in particular, 4-carboxybenzaldehyde (4-CBA), needs to be removed, as it is a colored compound.

Therefore, the crude terephthalic acid is purified in a fixed-bed reactor using Clariant's H2MAX® catalyst: the colored by-products are hydrogenated to uncolored and water-soluble substances. In the end, the purified terephthalic acid (PTA) has typically less than 20 parts-per-million (ppm) of 4-CBA.

H2MAX® catalysts contain palladium, a precious metal. Clariant produces the catalysts with a unique production technology that assures their activity remain stable for a long time. For precious metal catalysts, it is important that they preserve as much as possible of the valuable metal during operation. H2MAX® retains more palladium during its lifetime than other state-of-the-art catalysts. This means that customers save money, as they need to buy less palladium.
Any questions?
Contact us